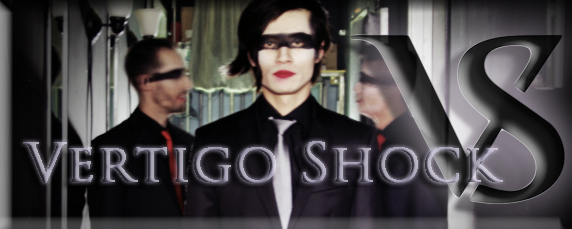 ---
It is a fusion of raw talent and a Dr. Jekyll/Mr. Hyde syndrome, dubbed "Mad Scientist Electronic".
Having performed with names like My Life with the Thrill Kill Kult, Pig Face, Genitorturers, Shiny Toy Guns, The Enigma Sideshow, and Brothers Grim Sideshow, Vertigo Shock offers a universally accessible alternative tone, while at the same time reviving and preserving the grinding synthesizer-driven sound and feeling of their subversive musical forefathers, Vertigo Shock's performance seamlessly combines candidly personal music with an almost shockingly genuine portrayal of fetishistic visuals and emotions to create an overall animalistic spectacle that will engage all of your senses and leave you feeling hungry for more.
---
In-studio, Saehwan Lafayette Koo is the writer and producer of all music and lyrics.
VERTIGO SHOCK live:
Saehwan Lafayette Koo – vocals, synthesizers
Poel – guitars, back up vocals
Joshua Gutierrez – drums
Uzi – bass
"Thursday, 17 February 2011 Scifidie – by Vertigo Shock This song falls under Art Rock, There is a place for music like this, If you're into 80's new wave; Brian Eno to Devo, to the B-52's then Scifidie by Vertigo Shock should be on your ipod. Its a weird song that sounds like a strangley good mix of Fred Schneider of the B-52's singing with an 80's cover band; but instead of singing the prewritten words, sounds like the Fred Schneider voice is improvising. I would think this song would be hard to find in the world of radio, but rather easy to find in the stockpile of music a true connesuer of would have in his collection. Its a song you pull out to your friends and say "you ever heard of these guys" and play to impress them. If you want to listen to something original and have a smoke break from the monotony of what you've been listening too, i guarantee this will, for the moment, give your ears the well deserved break. "
— Brooksley Media, BM New Music Review